Publication series CPS (from 2020) in collaboration with Vanden Broele Editions
The Centre for Policing and Security and Vanden Broele Publishers, two players with an importantrole in the development and dissemination of knowledge for the police and security services, joined their forces as from 2020.

From 2020 on, the CPS and Vanden Broele Publishers joined their forces: a strong anchoring within the sector, an extensive network, extensive substantive expertise and the know-how to get the right information to the right person in the right way.
The collaboration not only involves practical study days and training courses, but also a new book series and a further expansion of BlueConnect, the online knowledge point for the police.
Publications in the new series in collaboration with Vanden Broele Publishers, both as a printed publication and in Blue Connect.
These publications are only available in Dutch language.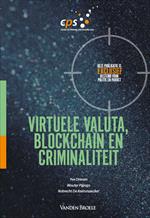 Growing organizations, that is the challenge we as Vanden Broele Publishers have been taking on for more than 60 years. We do this by allowing organizations and their employees to work smarter, more efficient and more customer-oriented. In doing so, we focus resolutely on practical knowledge sharing and tools … and we are always looking for the ideal mix between traditional and new media. Also for police and security services. For example, BlueConnect, our online knowledge point for the police, goes hand in hand with training and study days, the quarterly magazine Blue Minds and practical books. In doing so, we break far beyond the traditional publishing box. More info on uitgeverij.vandenbroele.be